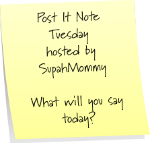 I suppose I could blog about the rain and how much it sucks! This means that Paige will not have soccer tonight and we'll be stuck in the house yet again. Mike didn't have practice last night and being cooped all day and all night with 2 crazy kids who did nothing but fight....well, let's just say it's a miracle we're all still here!


But anyway, I don't think you want to read a boring post about rain, so instead I'm taking
SupahMommy
up on her Post-It challenge. Let me just state that it's darn near impossible for me to sum things up on a little piece of paper that never stay where you put it and ends up getting lost anyway so what's the point!


But I figure
these Post-Its
can't get lost in the shuffle.
For my loving husband, here's one for you!!! I know, I know, it always tastes better when I make it, but really, it's not that hard!
All I want to do is pull the bag out and take it outside. There should be no reason I have to rearrange the kitchen to find everything that missed the intended target!!!
Yes, I know the kids love to play in the leaves. But seriously, there's enough stuff to clean INside the house!
Especially on Sunday. Oooh, there's gonna be some battles in this house on Sundays!!!


So what will you write?


Until next time.....