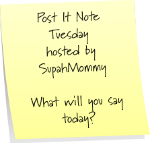 Go check out
SupahMommy
and come play along!

I promise, it's fun!
So I went shopping the other day at Target, aka the Greatest Store Ever!!! I figured I'd buy the kids their Halloween costumes while I was there and while the costumes were still there. Here's what I saw......
this is not my store, this is courtesy of Google,

but it's pretty much what was staring me in my face
So, next time I go to Target I will
stalk
find a manager and slap this on their forehead.....
And this one, too....
I'm the type of person who won't decorate until the month that a holiday falls in. In other words, my Halloween stuff is not coming out of hiding until Thursday! But before I can put the decorations outside, I need to do some cleaning up. Especially outside. I hate cleaning up when others aren't cooperating, thus making my job that much harder.
So while I wait for Mother Nature to cooperate, I made a list.
Vacation~deserted island far, far away when the weather is always beautiful. Yes, I will gladly take my friends, but you have to promise to not touch what belongs to me. Yes, I'm greedy!! But I will share my pretty umbrella drinks and Captain and Coke's.
Now over the course of the day yesterday I realized that a certain "friend" was taken and cannot accompany me on my vacation, so I'm going to take these 2 with me...
If I find these stickies are not stuck on my property

I will find you and you will be kicked off my island.

I may not watch Survivor, but I know how it's played!

So don't touch!
And while I'm waiting to leave for my vacation, I'm gonna throw in a shameless plug. Why? Because
stickies are fun
I want to show some appreciation.
Until next time...