So here I was trying to think of some funny stuff for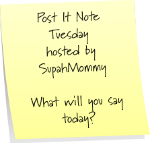 and I'm drawing nothing but blanks. I figured I'd work it out over some dishes that desperately needed washed.
I found the bottom of the sink (enter angels singing here)!! But guess what else I found???
The equivalent of a bowl of Spaghetti O's!!!

So this one goes out to the little people that inhabit my house.....
Apparently you misplaced THIS lovely note from last week!!!!
I swear, I'm gonna keep dishin' out these Post-Its until you get the darn message!!!
And since I'm recycling stuff, here ya go little boy!!!!
All I have to say is thank goodness Target has cheap bath rugs. Your late night, half asleep, zombified, stumble into the bathroom trips are killing me!!! I don't care how much you smile at me while your doing your business everywhere but where your supposed to. I'm tired of buying nice and fancy rugs. You know, the ones that are all fluffy and welcome your feet out of the shower with open arms? Ya, no more happy feet when getting out of the tub!!!
Ugh!!! Ya know what, I'm tired of saying the same thing over and over.
I'm done!!!!!
I'm outta here!!!