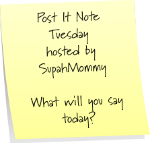 Yep, it's that time again!
There really are no rules for Post-It Tuesday. You can use then however you want.
For example, using post-its as b!&@h notes....awesome idea! Makes me think of the V8 commercial!

What really needed to be at the end is this.....
Post-it notes can also be used to spread some humor around the room. And maybe even let people know to leave you alone!
If you follow, yes, I love to recycle =)
But my favorite all time use of Post-Its is the infamous To-Do list. I really need to invest in these in real life cuz if I don't write something down...

For-Get It!!!!
And since Mother Nature is being so nice for letting me get to my to-do list, I'd like to slap

this

on her head. That is assuming she doesn't turn into the b!&@h she can be and decide to blow me it off.