I came across this incredibly easy peanut butter cookie recipe. If I can make them, anyone can! And they are so tasty that I just have to share the recipe!

1 cup peanut butter (any kind)

1 cup sugar (granulated)

1 large egg


Preheat oven 350°F.


Mix sugar and egg together,
then and peanut butter.


That's it.


Now form into 1" balls an press with fork.

Dip fork in a little sugar so it won't stick.

Bake for 10 to 12 minutes at 350°F.


Makes 1 dozen cookies.
To give credit where credit is due, I found this recipe at
Cooks.com
.



And FYI, we got 2 dozen!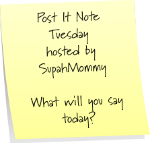 Now head over to
SupahMommy's
for some more fantastic post-its!
Until next time...