I love to read! According to my mom, I was reading when I was 3. When I had my own kids, I thought, wow I'm gifted! So naturally, they will be, too. I can teach them to read early!


Let's just say when GG was 3 and I tried to teach her to read...well, I almost went bald!


But halfway through kindergarten, it clicked. And she reads non stop! Some nights we have to tell her to put the books away and sleep!


Anywho, back to me. Growing up I was obsessed with the Babysitters Club and Sideways stories. It's so cool that I've passed the second of those onto GG. I don't think she's quite ready for Babysitter Club books yet.


Now that I'm grown up, my tastes are different. I am a huge James Patterson fan! I've read just about all of his books. I never got into the Maximum Ride series. Flying kids do nothing for me. Of course I love Harry Potter. Go figure!


I just finished Patterson's King Tut. Yes, SupahMommy, I know it was months ago, but present making needed to take top priority. But once I picked it up again, I was done in 2 days.


So anyways, back to SupahMommy's and MommyBrain's questions at hand...


What are you currently reading?

Nothing at the moment. For Christmas I got Stephen King's newest
I can't wait to read it, but the 1,000 pages are just a tad intimidating.
See, with Patterson, I can blow through one of his books in a day or 2. Not the same with Mr. King.
When do you find the time to read?
Well, you see, I have this magic wand where I can magically add in a few hours to each day. It really comes in handy! And, no, can't borrow it.
Where do you do most of your reading?

On my couch. It's the best hiding spot! The kids are usually in bed and the husband is downstairs computing. As long as I can squeeze in between the plethora of blankets and animals that the kids always forget to take back to their beds, I'm gold!
How do you choose what you read?

Like I said before, anything Patterson, except the freaky kids. I also read what my BFF is reading. We have similar taste in books so I usually can't go wrong. I've also strayed from my norm by reading things like
OMG was this book amazing. So inspirational! But also very sad. I also want to read Patrick Swayze's book, but with what's gone in my life lately, I don't think I'd be able to get through much of it.
From where do you get most of your books?

The library, because if you know anything about me, free is my favorite word! Of course those things are no longer free when you forget to return them, which I often do. Oops! I also borrow books from my BFF. Occasionally I buy them if it's a book I have to have and can't wait for someone else to read it. I'm not very patient either!
What do you do with a book after you've finished reading it?

If it wasn't so cluttered with broken things that I need to hot glue, I'd show you a picture of my bookshelf. Complete with the piles of books next to it that don't fit anywhere else!
What are your book (reading) quirks?

I don't have many. But when I do get a new book, I read the back and inside covers. I sometimes read the first page or 2, especially if I'm going to buy the book. I'm not making the mistake of buying a book and ending up hating it. I did that once. Halfway through the book I realized that all the good guys would die before the end. Let me tell you, I. WAS. PISSED!!!
So what are you reading?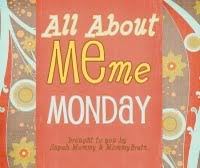 Check out
SupahMommy
and
MommyBrain
, link up, and join the club.
Until next time...