I will be the first to admit
that stores put their holiday junk out
WAY too early.
But Cadberry Eggs... O.M.G!!!!
The earlier they are out,
the more time I have to enjoy them.
And not those mini POS eggs.
I want to big ones.
If you're gonna eat a Cadberry egg
you have to get the real deal!
And, yes, I looked like an ass dancing
when I saw them at the store last night!
Do I care?
Absatively not!!!
I still had to get up and take GG to school
but there's a huge difference between 6:00 and 7:30.
And as quiet as I tried to be, the bugger still woke up!
And then took a nap at dinner time.
Which means he was up late.
So today has the potential to be a very long day.
Need more Cadberry ~ that will help!


Now head on over to SupahMommy's place to check out some more funny posties!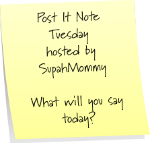 Until next time...