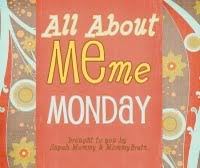 MommyBrain
loves birthday and she just celebrated another one.
Happy Birthday!!!
In honor of her, this week's Meme is about best birthdays!


Obviously, my kids' first birthdays trump all others. Reaching that milestone means that you, as a parent, have survived a whole year with a baby. And if you had a baby like my son who didn't figure out how to take naps until he was 3 months old, than reaching the one year mark is definitely cause for celebration.


And speaking of my son, I'm surprised he's made it this far. It says a lot when we have a special ice pack just for him!
As a matter of fact, I had to pull it out tonight because Superman Little Dude thought he could fly off the couch. Head...meet wall!

Anyway, back to birthdays. There are 2 that come to mind for me. The first was back in '99. I was in my second year at Slippery Rock when my birthday rolled around. Nothing special happened, except for the fact that is was 70 degrees out. I know that doesn't sound like a big deal, but my birthday is in early February and I was at Slippery Rock. We're usually snowed in that time of year!


My other greatest birthday ever, which is way cooler than being graced with unseasonably warm weather, was my gift from my mom last year. She bought tickets for us to see this man...
Yep, that's right...Jimmy Buffett!
Of course the concert wasn't for another 4 months and that was THE longest wait. EVER!!! And I am NOT a patient person!
But it was so worth the wait! Well, except for the heat. We could have done without that. Seriously, I thought I was going to melt! At one point I pulled a beat up old umbrella from the trunk to try and give us shade. I think I did a pretty good job of rigging in to our chairs. Of course, looking back, I'm sure the margaritas weren't helping. At least not with the heat!
If we are lucky enough to score tickets next year, I have a plan to make the experience even cooler. See, last year we had our drinks in the parking lot and walked around admiring the other
fools in clothing they should not have been wearing
fat men in coconut bikinis
fans. And we had pretty good seats. Beach balls were being tossed around, everyone was so
drunk
nice. All in all, a good time. But I now know why people get there
at the butt crack of dawn
when the lots open. And I want to be one of those people. Good times!
Now head on over to
Supah's blog
and
MommyBrain's blog
to read about other great birthdays. And tell
MommyBrain
happy birthday while you're visiting her.
Until next time...