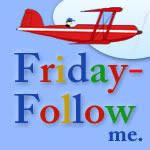 I had 4 inches cut off. Like I said, that's a lot considering I only get my hair cut once, maybe twice a year. I really need to stay on top of that!

Excuse the mess - I just took my ponytail out. I just wanted to show off my hair. I'll put more effort into it next time. I promise.

Long or short, I would kill for this little girl's hair!! Poker straight and natural highlights. Her hair is already starting to show some so blond it's almost white streaks. People pay lots of money for that, ya know!!

Anyway, her hair was darn close to her waist!! She wanted it cut up to her ears, but I nixed that! We compromised on just below the shoulders.

Then I had to tick her off again by refusing to buy the purple, pink, and blue hair extensions! They were $10 a pop! Um... no!!!

I figure I'll spray her hair red and blue again for the 4th. The blue washes right out, but the red turns to pink and stays in for months! She almost went back to school last Fall with pink hair!

By the way, I must share her 'tude after her hair cut. I was squirming sitting in the chair watching her in the mirror as she walked back to waiting area. She was flipping her hair over her shoulders as she

strutted

across the floor!!! That kind of attitude is the complete opposite of me as a child. Sometimes I wonder if it really was a stork that brought her to me!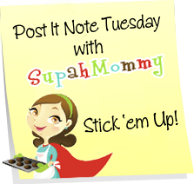 Leave me some love and then head on over to Supah's page for more post-it notes.

Don't forget to check out my guest post please!!!

Until next time...
.