Here it's hot
There it's hot
Everywhere it's hot hot
So you know what that means? Pool time!!!
We finally made it to the pool earlier this week. I was expecting the same as last year. GG would go off to the big pool and find a friend. Little Dude would venture into the baby pool and play with the toys. So I brought a book to read when I was done in the pool.
The kids were in the baby pool for maybe 10 minutes when they made a slow bee line to the big pool. Can't run! Last year it took close to 2 months to get Little Dude off of the steps in the big pool. This time, he went right in. He walked back and forth in the shallow end, splashing and sometimes dancing, for an hour and a half! I was so proud of him
!


It also meant that I was in the pool for an hour and a half! GG can't really swim, but she knows her boundaries. I feel safe watching her from the sidelines. Little Dude has no fear and doesn't know his boundaries yet.
Thursday we took a trip to the pool again. I don't think any feet stepped in the baby pool! At least not the feet of my babies!
Little Dude even went a step further today. I asked him if he wanted to jump in the pool. He said yes!!! He stood on the side, grabbed my hands, and in he went. 15 times in a row! Then suddenly when I wasn't ready, he jumped in on his own!
I'm still not sure if I'm ready for him to grow up, but there is one thing I know for sure. I have never been prouder of my little man than I was at that moment!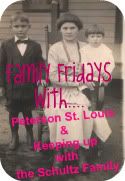 Until next time...
.