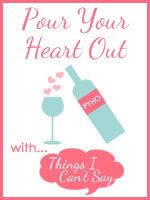 From Shell:

Just a brief reminder that everyone linking
is pouring their hearts out
and we should all be respectful in our comments. ;)




I used to be one of those people who steered clear of the PTA. I couldn't go to meetings when GG was in Kindergarten because I was working at the time. I also saw that as a bonus because I couldn't get sucked into volunteering for something. Once I decided to stay home with the kids, I thought it would be a good idea to actually go to a meeting or 2. I ended up being in charge of decorating 2 bulletin boards in the school, but that was it. There was no way someone was going to talk me into taking on a huge role and be in charge of something big, like Family Bingo. That event takes an army to run anyway!

After I started going to meetings on a regular basis and got to know some of the members a little better, I realized that our PTA rocks. Really, I don't think the school would run as smoothly as it does without them. I started getting more involved and helping in more areas. This year it's time for elections. All 4 of the board members have served their 2 year term. Some of them are actually leaving the school because their youngest is moving up to the middle school. I considered running for a position. I knew for a fact that I did not want to be President. The woman who does it now does a fabulous job and it's a lot to live up to. But more important, I think that you should have to serve as another member, such as Secretary, before you can run for President. Kind of like working your way up the corporate ladder. Unfortunately that's not how it works. You only have to be an active member for 12 months to be eligible to run for office.

While I was debating this over in my head, one of the members approached me and asked if I would be interested in running for Secretary of Treasurer. A friend of mine said she would throw her name out there for Secretary, so I went for Treasurer. Yesterday I got the phone call asking if I would officially accept the nomination for that position. I said yes.

Yes, I'm nervous, but I'm also excited. I love being involved in the school. Even more so now since we are getting ready to send Little Dude to Kindergarten in the fall. I know that there is one other person running for the same position so it's not a guarantee that I will be voted in. Even if I'm not, I will still go to meetings and I will still volunteer where needed.

My issue with this is others who seem to have a problem with this. If I didn't want to go for this position, then I would have declined the nomination. I know I joke about this on my blog. I do that IRL, too. But that's because I'm nervous. This is a new thing for me. So telling me that the Treasurer is the worst position and saying other things that make me feel that I'm getting in over my head do not help. I am excited over this. Regardless of personal opinions, why can't people just say good luck? You can tell me about your personal experience, but really,that doesn't always help either. Any negative comments or stories aren't very encouraging. A simple "Good luck" or nothing at all if you have nothing positive to say will suffice.

I know this has nothing to do with who I am as a person. I don't doubt myself and I don't think others do either. What is it about the PTA that people don't like?


And while I'm hear pouring my heart out, I might as well mention that Teacher Appreciation week this year absolutely sucks! We've all had that one teacher that we just didn't like. But in general, I think it takes a special person to be a teacher. Teachers need to be thanked ALL year, not just during one specific week. In this case, I am referring to my daughter's teacher. I started to feel guilty about not doing anything for her this week. I have a feeling not too many other parents are either, and that only intensifies the guilt. But then I have to remind myself of things that she has said to parents of her class. Saying things like "this class is a bunch of underachievers" does not grant you any type of appreciation. At least not in my book.



Until next time...
.