I have a confessions for you. My real identity is Naline Crembell. I am a super secret spy. For safety purposes, I cannot reveal who I work for, but I can let you in on some of what I do. In the spy world, I am known for my powers of invisibility. If there's a subject whom we think is guilty of a crime, but don't have the proof, I am sent in. I can spend all day with the subject and they never know. It's not always an easy job when I have to follow someone
everywhere
they go, but it's a sacrifice I'm willing to make to keep the world safe.
I love my job, and the best part is, the whole family is involved. My husband,
Cyrus Celius
, has some secret abilities, too. He is the brauns of the operation. He can lift things that no one else can. And that ability, my friend, comes in handy more times than you would think! You could compare him to Superman, minus the whole flying thing. That is where our daughter comes into play.
Our lovely daughter
Gabriella Crembell
, has the ability to jump to great heights. No need to take the stairs - we can send her up to do the job. We have also noticed lately through our rigorous training exercises that she seems to have the ability to fly. She can't go very far, but hopefully with some more training, she can master this skill.

Our other trainee is
Damian Celius. He is a quick little bugger. He can run like no buddy's business! He's still a little shy at times, but we are teaching him how to get in and out of a place with the goods that we need or the information that we require.

And no, we do not use our powers for evil. We have our boss that we must answer to. Again, for safety reasons, I cannot disclose his name. I would never want any of my readers to get wrapped up in something that they want no part of. This is a dangerous job and takes a special person. If you lack special skills, there's a high likely hood of injury. I do not want that for any of you.




This glimpse into the world of what I really am has been a part of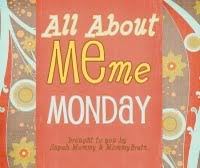 This post will now self-destruct in 5...4...3...2...1....