Why am I not participating in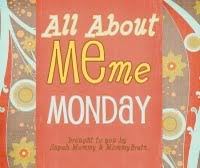 Oh where do I begin?
Facebook
Twitter
Cafemom
Blogging
Ok, all of those are my excuses and I'm sticking to them!!! See on the side of my page where it says "My other hiding spots"? Yep, I'm hiding.


It's rainy and miserable out, which

always

puts me in the mood to do jack squat.


The Steelers lost to the friggin Ravens and that never makes Meme happy!


I also have a
4 year old little boy
cat on my lap, which is making it hard to do anything. Even drink my coffee. Me without coffee is NOT good. Some people won't even speak to me pre-coffee!


I'm also a little depressed because I finished one of my Christmas presents. You would think finishing a project would make me happy, but do you see the colors of this thing?!?
Steeler fans HATE anything that is brown and orange. I suppose it's a sacrifice I had to make for my BFF, but I'm not happy about it.



I guess I'm just one big ball of procrastination today. I'm even in my pajamas still! Shh...don't tell!



Go visit
SupahMommy
and
MommyBrain
for proof that I am not the only one with an excuse today. It's just one of those days!


Until next time...