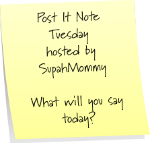 Why bother spewing verbal vomit when you can sum it all up in one neat little post it note?


Sit back grab a drink, and read what I have to say today.


Hmmm....maybe you should put the drink DOWN!
You know my Post-its aren't complete

without a vent about good ole Mother Nature!

WTH was I thinking last week?

Must have been so annoyed I blocked her out!



And of course I saved the best for last!
Oh hush! I'm allowed to be mushy!

Until next time...