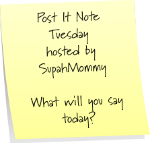 Of course I have something to say! I always do! Don't you know that by now?

What do you have to say today? Go visit
Supah
, read da rulez, and jump on in!

****************************************************************************

THIS

is what Little Dude spent his day doing.
In the car taking C and GG to their appropriate destinations.....


The

entire

morning after we returned home....


Immediately following dinner.
And now...only 15 minutes after going to bed. It's usually a good hour before he conks out!


He has slept more in the past 24 hours than he has been awake for!
While I am concerned, I will admit I was beyond excited to have a completely quiet house. I got some heavy duty cleaning done!!! And by that I mean our bedroom! The cable company has to be all up in there Wednesday. They need to give us We bought a new box because they took moved around my channels and I want them back! The least I can do is make the room presentable, thus avoiding any embarrassment of yours truly by some unmentionable that surely would have been left out in the open!
Truly one of my favorite holidays!!!
Now if I could only stop feeling like I'm late for everything!!!
Until next time...