This holiday weekend had to be the longest weekend ever! But it was a great one, and that's what counts, right?
It started Friday night with the annual street fair and Battle of the Barrel.
I took the kids and we walked up to the library where there was a bounce house for them to play in. On the way back we stopped for snow cones for them and a burger for me. Then we met up with some friends and headed towards the police station to find a good spot for the Battle. Once we were there, us adults met up with some more friends and the kids found some of their friends as well.
The kids had so much fun getting soaked at the Battle...
while us adults thoroughly enjoyed the fact that a local fire department lost their 5 year winning streak. Our department puts up a good fight, but has yet to win. Although it was good to see a new winner!
Saturday morning we got up early to get ready for the parade...
I don't want to overload with the pictures, but I took quite a few. There was a motorcycle decked out as a pig for a local BBQ place that rocks! There were also floats, bands, dancers, and the kids' favorite, mini race cars that zoomed all over the place!
After the parade, we stopped home to cool down and have a bite to eat. Then it was off to the pool for the races. Little Dude won 3rd place for his age group. Granted there were only 3 kids in that race, but he still held his own. GG didn't do so well in her age group, but I am very proud that she did the race to begin with, considering she is not a great swimmer.
After that we came home to recoup yet again and headed back to the park again. This time I got smart and decided to drive there. These races were on the track. Both kids did very well in their age groups and received certificates to show for their effort.
Saturday evening, my mom joined us for the fireworks. They were awesome! There were light-up signs with tanks on them that shot fireworks towards each other.
Sunday we did the norm for the day ~ go to my in-laws. The kids played in the sprinkler and we had a great cookout. Then it was time to go home and get ready for yet another fireworks display. The kids found someone to play with to kill the time and shortly before the show started, family friends finally made it there to join us. The fireworks were beautiful and up until we had to leave, we had a great time. The drivers in the parking lot needed their own set of post-its telling them how to properly get out of a crowded lot.
I hope everyone had a great 4th! Mine might have been crazy, but
I did learn a lot
from it! Go check that out and then head on over to...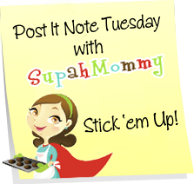 for some more great post-its!
Until next time...
.