I know it's late in the day to blog, but I just to share our awesome playground experience.
Playground doesn't even begin to describe this place. This was the playground castle of all castles! I kept trying to take pictures of my kids running around, but I couldn't keep up with them.
This is the only picture I could find online. Sorry it's so small and does the playground absolutely no justice. Just so you know, this picture only shows the front half.
There was a smaller version for little kids, but Little Dude wanted nothing to do with that. He's a big kid, ya know! Him and GG were playing hide and seek. Honest to goodness it took them at least 10 minutes to find each other. Yes, that's how big and twisty this place is.
There's also little sprinklers for kids to run through. Had I known this, I would have put their suits on instead of taking them home with wet shorts. Had I also known there was a snack bar, I would have brought money, too! I'm telling you this place had it all. Even staff members keeping an eye out to make sure all the kids are safe!
In the back behind the castle there are 4 tennis courts. I am no where near an expert on these things. I'm lucky to hit the ball sometimes! But the courts looked to be in pretty good condition. I'm trying to talk the husband into going out there to play sometime. He's trying to teach me and the kids to play. I'm thinking when they get tired, we can send them to the castle and him and I can hit.
The absolute best part of our time there... no fighting. The castle is so big that my kids can stay far enough apart to not drive each other nuts. That made me very happy!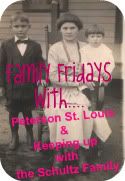 Until next time...
.