Last Tuesday in
this post

I was complaining about Mother Nature

Surprise, surprise, right?!


There was something on one of my post-its

that I thought would make someone chuckle

but I forgot to give her credit.

So,
Shell
, I apologize!
Wait! Who am I again?

Oh, right!

Soon to be winner
!!!
:)
Immediately after she opened the bottle
I thought to myself
"One could get a buzz off of this stuff!"
No sooner do I think that
when Little Dude starts complaining
that he's hungry!
There are some funky noises coming out of my Dell.
And it's slow as molasses!
I just found out today
that my darling husband
bought me a netbook for my birthday.
And I'm allowed to open it early
since we're not sure how much longer the Dell will last.
Hopelessly addicted fan!
Need I say more?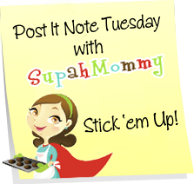 Now head on over to SupahMommy's blog to read some more good sticky notes!

Go ahead, click the post-it! You know you want to!


Until next time...