A month ago when people starting asking me
what I wanted for my birthday
A snow storm was definitely NOT on my list
And 2 storms in the same week...
Who in their right mind would want that?!
Certainly not me!
Mother Nature...
Thank you very much
for snowing me in on my birthday
and causing the schools to close.
Again.
I appreciate it!
Really. I do!
GG~ The other night when I was tucking you in, you told me I have been the nicest mom ever lately. Thank you very much! Now
that
is something I really do appreciate.
Little Dude~ Thanks for enjoying the halftime show with me. Apparently you, me, your sister, and your uncle are the only ones who like The Who. Anyway, when you said "Those old guys rock!" I agreed with you. But then when you asked if I used to listen to them, well, thank you very much for making me feel old.

Just for the record, yes it is my birthday and no, I am not old! Twenty-eleven is not old! The only way I listened to The Who (now and when I was growing up) was on a station labelled Classic Rock. Kinda like reruns, I listened to certain bands the second time around. Maybe even a third. I mean, how old is Mick Jagger anyway? I'm not a fan of the Stones, but I really do have to wonder how that man is still alive!

Sometimes I can't wait for my kids to grow up so their kids can say crazy stuff to them. But then again, let's not rush that, shall we.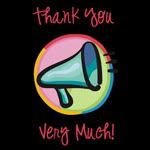 Hosted by Kmama
over at The Daily Dribbles.
Click the button
and pay her a visit.
Thank you very much!


Until next time...