Not 1, but

2

attempts to drive the husband to work.

Both resulted in a giant F-A-I-L!

I know part of the blame

falls on people who drive vehicles bigger than they should

or faster than they should

But I went out today and many main roads were horrible!
I will think of you when I look at my car

that's finally back home in the driveway

(Thanks to a good neighbor

and the salt truck that pulled up behind me

when I got stuck in the middle of the road trying to pull out!)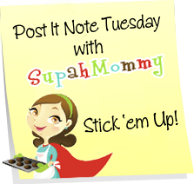 Now go over to SupahMommy's blog to read more funny post-its!