It feels like I've been doing so many blog carnivals lately, but I saw this one and wanted to jump in this week. Plus there's not too much going on around here as of late, unless you want to listen to me bitch and moan all day.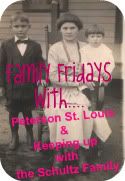 I've been thinking about my Pap a lot over the past month or so. I think it's because I've lost a few people close to me and it just reminds me how much I miss those who are already gone.
For the first 6 years of my life, my mom and lived with my grandparents house. The house was HUGE with an awesome yard for sledding and woods to play in. During those 6 years it was my Pap who would watch me while my mom and Grammie worked. Looking back now I realize I may have been just a tad spoiled.
My favorite thing to do was go to the park. There were plenty nearby, but did I want to play at those ones? Not usually. If I wanted to play at the park that was a 1/2 hour away, my Pap would take me. But I stepped on a bee at that one once and my foot swelled up like a balloon, so we avoided that park for a while. But before that little incident, which was huge in my little girl eyes, that was the best park ever! There were swings, which I loved, awesome things to climb on even though I rarely climbed very high at all, and they had those big rubber balls with a handle that you cold sit and bounce on.
He also liked to take me down to the Shoppes for some ice cream. Apparently I also liked to drop my ice cream after just one lick. We would then march back in and get a new cone. Chocolate peanut butter, of course. It took me years to figure out that my Pap probably had to buy another cone. For the longest time I thought they just gave us a free replacement. Wouldn't it be nice if the world worked like that?
I was the first one to have kids in my family and everyone has always said that my Pap would have loved hanging out with my kids. Not because they're my kids and naturally awesome, but because they're kids. He loved kids. As a matter of fact, when my mom was growing up in that house, there were always other kids there. My grandparents took in foster kids for a while. Take that, add it to the 5 kids of their own plus the chickens out in the coop and it was quite a busy place!
Last summer, which was my first summer home with the kids all the time, I realized that I, too, can take them all kinds of places. I scoped out a few parks I plan on taking them to this summer. They may not be right in our backyard, but they're close enough. What's a little drive going to hurt, right?
The reason we didn't go to any of these parks last year was because something always got in the way. Either it was too hot and the pool was the option to keep everyone hot, or it was raining, or we had another trip already planned. But this summer. This summer will be awesome! Parks, museums, the zoo, and of course ice cream. Even if it means I have to buy a replacement cone!
If you want to read some more family stories or add your own, head on over to
Keeping Up With the Schultz Family
or
The Peterson Family
.
Until next time...