For the past 4 years, GG has been playing soccer. When Little Dude turned 4 a year and a half ago, he also started playing. They play both in the Fall season and in the Spring season.
We're not supposed to keep score, but as you can imagine, every single kid does. And sometimes the parents! The point is for the kids to have fun and be active. This is why they continue to play each season.
However, I have started to reconsider the Fall season. I'm not a fan of the cold. Our practice field is way at the bottom of a big hill, so it feels colder down there than it really is.
After last night, I am ready to petition the league to push back the start of the Spring season. Last weekend was absolutely gorgeous - perfect soccer playing weather. Last night? It felt more like November.
Let me explain in further detail via my tweets transferred to post-its...
Yes, I have to do it all again tonight with the other child. I know we're supposed to make sacrifices for our kids, but this is getting a little out of hand!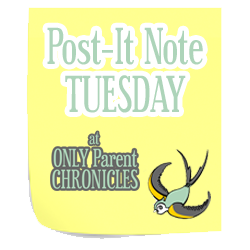 Until next time...