You see, our neighbors moved out.
They apparently threw away a lot of stuff.
It's sitting in front of 3 houses.
We forgot to take our garbage out last week.
Oops!
And it's recycle day.


Little Dude doesn't like bugs.
Odd for a 4 year old boy.
Anyways, there was a HUGE spider on the basement wall.
I won't go near it.
Hell no!!!
He walked by and I started screaming
"It's moving! Aahhh!"
He ran like the wind upstairs
knocking me and GG over.
I got him again going up to bed.
This time there was no spider.
I almost peed myself while falling down the steps.
I was laughing that hard.

Where's my mom of the year award?


Are yinz sick of me saying I bleed
Black and Gold?
Just say something if you are.
But be forewarned...
I go nuts during playoffs!

Just ignore it
or tell me to shut up.
No offense will be taken.
I already have a husband who
won't watch games with me
because I yell at the tv.
And now the kids do, too :)

This post is brought to you by the letter S and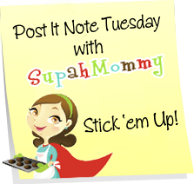 Click it and read some more post-its!
You'll be glad you did!




Until next time...

.