Jane over at Adoption of Jane does a meme every weekend called Weekend Warriors. It's a meme for parents of special needs kids to link up and for parents of non-special needs kids to learn more.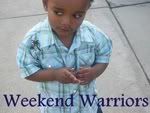 When I see this, it brings me back to a past job and a little boy. I wasn't quite sure if this boy would be considered special needs but this definition makes me think he is/was...


"it is a legal term applying in foster care in the United States, derived from the language in the Adoption and Safe Families Act of 1997. It is a diagnosis used to classify children as needing "more" services than those children without special needs who are in the foster care system. It is a diagnosis based on behavior, childhood and family history, and is usually made by a health care professional."
copied from
wikipedia
When GG was a baby and we realized that I needed to return to work, I found a job at a child care center downtown. I worked in the 2 year old room. There were roughly 30 kids in this room and 5 teachers. In general we were in charge of the safety, care, and education of all of the kids. But each teacher had a group of 5 or 6 that they were primarily in charge of. In my group, I had a little boy, Alex. Alex was in the care of his foster mom and he came from a bad, bad place. He was abused and neglected, and that resulted in many issues with him. He had behavior problems, social skill problems, and a big delay with his speech.

It took a lot of patience to work with Alex. His temper tantrums were huge and they happened quite often. They resulted because he never really learned how to play with other kids. Not that 2 year olds actually play together, but even parallel play was difficult for him. He was also a hitter and a biter. Coming from violence, he probably didn't know another way to deal with his emotions. And his speech delay meant he couldn't verbally express how he felt, unless it was through screams. I also had to deal with him hitting, kicking, and biting me. I told you it took a lot of patience!

Now please don't take this as Alex is a bad kid, because he was far from it. He was so sweet and so loving. He refused to leave at night until I gave him a hug. Every single night! His foster mom also told me that he talked about me all the time. It's not that he couldn't talk - he could, just not very well. He usually spoke in 1 or 2 word phrases. I will never forget one day in particular. It was nap time and, as usual, Alex would not go to sleep. He loved to help adults (I think he trying to seek approval) and he seemed to be afraid to miss something. I would lay with him, rub his back, but after a while I gave up. I had lessons to prepare and paperwork to do. He would usually end up sitting at the table with me and the other teachers. We were cutting things out for a future art project. Alex would point at each thing because he wanted to know what it was. I can't remember what I was holding, but I knew it was purple. I told him this, and he repeated "Purple". I was so excited. That was huge!!! It's moments like that which make you realize that all of your patience has paid off.

I left this job shortly before Alex had moved on to the 3 year old room. For a while I kept in contact with some of the teachers. From what I know, Alex had made great progress and his foster mom had officially adopted him.

I hate when we lose touch with people who meant a lot to us. I can only hope that he continues to do well.


Until next time...
.