Ok, here's the deal. I'm playing Supah's Survivor game. Each blogger is assigned a character on the show. If your character makes it to the end, you win some huge prize. I, however, will not see this prize (unless the winner posts a pic of it) because Randy had to go and be a dumbass and was voted off last week.
But I can still play for the weekly prizes.
For challenge #3, we were asked how many big marshmallows we could stuff in our mouth.
please save me the embarrassment and come back tomorrow


Seriously, when I heard this I was ready to throw in the towel, but I sucked it up and decided to take this challenge on. Yesterday I bought my bag o' mallows and all day I tried to come up with some sort of strategy. Luckily, Chris wasn't feeling well last night and spent a good bit of time upstairs in bed sleeping. The last thing I needed was for him to walk in on me. I would never live this challenge down!
Anyways, I got all dolled up and ready to go. And by all dolled up, I mean I threw on my team colors and brushed my hair. My team colors came in the form of one of my Pens shirts, which unfortunately can't be seen in the video. Why? Because it was under my boa. When I finished making an ass out of myself my video, I surprisingly felt quite proud. Not only was my number higher than I thought it would be, but it felt good to do something goofy. I haven't done something nearly as wacky in quite some time. And it felt really good to let my hair down.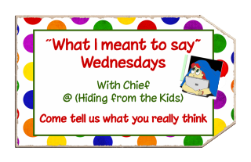 You didn't think I was really all that happy about this, did you?

What I really meant to say is...
Hey
SupahMommy
! What the hell were you thinking when you came up with this challenge?!? Have you been watching the Blue Man Group or something? Like this challenge isn't bad enough, but then you want me to post it on my blog and

then

link up on the
Survivor blog
so other people can see this!!! Seriously woman, have you been hitting the bottle a little too much?
But really, Supah, you are awesome and I do appreciate you forcing asking me to do this stuff your face thing. It felt good to be silly! And just so you know, if I would have had blue face paint, I so would have gone all Blue Man!
Oh, and
Princess
... you can have the title of boa wear-er! I tried being all "go team colors" but that thing is itchy as hell! I should have gone with the black and gold hat!
Ok, time to put my big girl pants on and publish this awesome feat of mine! Enjoy!
Until next time...
.