I love meeting new people so I'm linking up with this today.

SupahMommy is trying to
be a Twitter hoarder
help her
stalkers
friends increase their Twitter traffic. I'm all for that!
To play along and increase your twitter twaffic: we need to meet some new people.
1. Click on my twitter Icon below. Follow me!
2. Shout me a hello on twitter.
@_MamaJules_ I follow!! #yotweeps
Then I'll know you followed and I'll reciprocate.
SO EASY to do this way! Especially if you use tweetdeck.
Want more tweeps?
MAKE A BLOG POST LIKE I DID.
3. Grab the YO Tweeps Button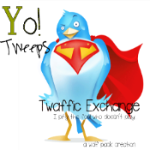 Now go forth, tweet, and meet some new tweeple!

For anyone who follows me on Twitter from this post, don't be offended if I don't follow back immediately. I promise I will return the follow soon. I am dying sick. So sick that I finally caved and called the doctor. I try to avoid them at all costs. That should tell you how crappy I feel. My hope is that they'll give some good drugs and I can catch up on my blog and Twitter stuff soon.

Until next time...
.