Whether you are stopping by from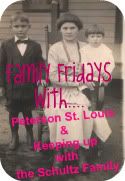 hosted by Keeping up with the Schultz Family
and the Peterson Family
-or-
hosted by Midday Escapes, One 2 Try, & Hearts Make Families
I would like to welcome you to my blog.
This shout out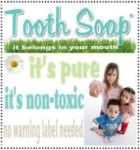 is here because they are sponsoring Friday Follow.
There's an awesome contest running this week.
And I love winning stuff!


Also, as per the rules,

I have the Toothsoap button in my sidebar
.
It's in the scrolly thingy towards the bottom

for the Survivor game I'm playing.
Moving on, I would like to share a story about my son, Little Dude. If you've been here before than you might have seen somewhere along the way that I am homeschooling him for preschool. At the time when my husband and I were discussing preschool, I did not have a car during the day. That made preschool selections VERY slim. We figured that since I have a background in education, it would just make sense to do it at home. Plus it saves us a lot of money.
Little Dude and I spend some time each day learning different things. I also take him to WeeSchool Wednesday storytime at our library every week. Each week the kids learn about a different letter. They sing songs, listen to stories, and then do a craft that is related to the letter. This week the letter was "T" and the kids made turtles.
isn't the shirt just awesome :)
I do believe the body is the bottom of a styrofoam bowl. There is a slit cut into either side of the body and the kids, with a parent's help, slide a plastic spoon through the slits. This becomes the head and the tail. The legs are taped to the inside of the bowl and the kids then painted their turtles. The eyes are 2 plastic beads, which were attached by the parents with a hot glue gun.
Unfortunately the paint is not staying on the turtle, but Little Dude loves his animal regardless.
I love the library projects - they are always so creative. It also gives the kids something concrete to take home. When we pick GG up from school or my husband up from work, Little Dude tells them all about the craft he made that Wednesday and what letter is was for.
If you have time to do the prep work beforehand, this is definitely something I would recommend doing with your kids. So easy and so cute!
Thanks for stopping by!
Until next time...
.