Yes, soccer season starts this week.
For GG anyway
.
And the one time I forgot
to mention on the registration
which nights weren't good
is the season she has practice on a bad night.
Due to Brownies, she'll have to miss
every other practice.
But I want her to go this week
because it's the first practice.


My mom agreed to take her - thanks Mom!!!


But remember that 3 feet of snow we had
that just melted?
It is a mud pit out there!
And let's pretend my house is at sea level...
That would make her practice field on the ocean floor.
I saw this in my horoscope today.
It's a reference to friends.
So to anyone I've formed a friendship with out there
Thank You!


I feel like crap so while I'm trying to get better,
click the Post-It below.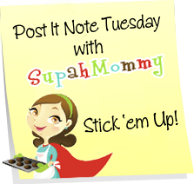 Until next time...
.