Anyway, she was talking about how Billy Joel's "She's Got a Way" is her favorite song. I absolutely

love

this song - it brings tears to my eyes every. single. time! But her post reminded me of how my mom lied to me as a child. You see, I had this tape. Did I just date myself? While I'm at in, I might as well throw it out there that I was around 4 at the time. That probably doesn't help either, huh?. But anyways, this was a tape of Billy Joel songs. I listened to this tape religiously. I would get so excited when one of the songs from the tape came on in the car because I knew all the words and could sing along. Never once did it occur to me that the voice on the radio singing my favorite songs was not exactly like the voice singing the same songs on the tape. My uncle tried to tell me the tape was another guying singing Billy's songs, but my mom said my uncle was wrong. Naturally, I believed my mom.



But secretly, part of me still believes that really was Billy himself singing to me.



Don't judge!

I know it's still little.

But this stuff takes time to make.

More will be added soon!

So be sure to visit often!
This post is brought to you by the letter U and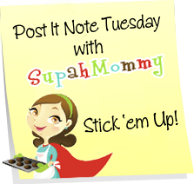 Click it and read some more post-its!
You'll be glad you did!


Until next time...
.