Did you ever have one of those days where you want to write a blog post but you have a serious case of writer's block? That's where I am right now. So guess what? I'm going to do what I do best and talk about my kids.

My oldest and most favorite girl, and I'm only saying she's my favorite girl because she is our only girl...


GG was born 8 years ago and what a crazy night that was! Like most new moms about to have a baby, I had no idea what to expect. When would labor start, what would it feel like, when should I go to the hospital - the typical concerns I think. I had a few contractions in the 2 days before I had her. They weren't anything that could be timed or cause any great discomfort so I didn't pay much attention. But I did go home and make sure the hospital bag was ready to go!
I remember very clearly that it was a Sunday night and I was watching Billy Joel on tv. Around midnight I decided to go to bed and finish watching the concert. Shortly after that is when it hit. I knew the pain wasn't bad enough or often enough to call my doctor. But I knew it was the real deal. Around 2:30am I couldn't take it anymore and called my doctor. I was on hold for 20 minutes - not wise on their part! Finally I was told the contractions weren't close enough and I should wait a little bit. I was so uncomfortable that I decided we needed to go anyway. To make a long and painful story short, we arrived at the hospital at 3:30am and GG was born at 3:44am.
4 years ago is when we added another to our happy little family.
Having done the pregnancy thing already, I thought I was a pro at it. I didn't know when Little Dude would decide to make his entrance, but I did know what it would feel like and when to go to the hospital. With GG not being very patient at making her entrance, I had discussed the possibility of an induction with my doctor. I wasn't crazy about scheduling the birth of my child for no apparent medical reasons, but I did want to grantee my safe arrival at the hospital. The Tuesday after this discussion was my next appointment, when we would discuss the idea a little deeper. Well guess what happened that Tuesday? Yep, Little Dude was ready.

I didn't wait as long as I did with GG. I called Chris, who was already at work, and my mom in case Chris didn't make it home in time. Fortunately he did and we all went to the hospital. We checked in, got the my room, and everything was going smooth. The anaesthesiologist came in my room around 9:30am for my much needed and much wanted drugs. His words... "I'm sorry. It's too late". What?!? Long story short again, we met Little Dude at 9:44am.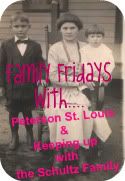 Until next time...
.