I posted this a few days ago. I
It was one of the hardest things I have ever written.
My heart broke as I typed
I am

reposting

it as a part of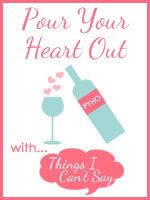 Please take a moment to think about these kids
and hug your own babies everyday!

For a while now, I've been following

Jaden's

story. In case you don't know,

Jaden

is a 2 year old boy fighting cancer. I first came across his story on

Facebook

through friends of mine. That lead me to

SupahMommy's

blog, where she gives updates every Sunday. I was fortunate enough a few months ago to go to a fundraiser for

Jaden

. It was amazing to see the love that surrounds this little boy and his family. It was also amazing to watch him run around and socialize just any other 2 year old.

While reading

Jaden's

updates and how he was slowly starting to win his battle, a friend of mine was losing her battle with cancer. In January, she lost her battle. It was so hard to lose a friend and it was even harder to watch her little girls go through the loss of their mother. In some strange way, I did find peace in her loss. A part of me felt that the overall plan was for her to give her life so

Jaden

could keep his. It is completely unfair because she had so much going for her, but at the same time,

Jaden

is only 2 and has yet to live a full life.

I was at peace with this until today.

Jaden

has a buddy Ethan. Ethan is also 2 and has the same cancer as

Jaden

, but unfortunately his treatments are not working. His tumor has grown and I don't think there's anything else that can be done for him. My heart breaks for Ethan and his family. I can't even imagine what they are going through. It has to be unbearable. I hope that they can find some way to deal with all of this and make their baby comfortable.

I've also seen stories of children on others' blogs. Some stories are about winning the battle, while others are not. I just don't understand why this stuff has to happen. Whether you're grown or a baby, why is the challenge of fighting something so ugly shoved in your face. I wish I knew the reason and I wish I had a cure, but sadly, I do not. Someday someone will, but for now all we can do is hope and pray. Hope for the road to recovery or hope for comfort.

For ways to help

Jaden

, Ethan, and their families, please go to

SupahMommy's

blog.


If you come across other stories such as these, please try to help in any way you can. It doesn't have to be money. Quite often hope and prayer help more than you realize.
Until next time...
.