Favor #1~

I'm in the process of crocheting stuff

and hopefully soon plan to open an Etsy store.

What I want to know is...
1. Is there anything you or someone you know collect

that you would love to see in my store?


2. If you're a parent (or know some)

what kind of practical stuff would you buy?


3 . Do you need anything for around your house?



Favor #2~
Ya, that's me.

My mom still makes fun of me for wearing all black

all the time

And having mile high, stiff as a board bangs.


What was I thinking?!?

Let's hope the 90s are one decade

that don't come back!



After you go over to parenting BY dummies and vote for me
(pretty please with sugar on top!!!)

Go over to Supah's page to read some more funny post-its!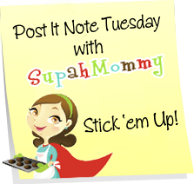 Until next time...
.