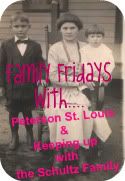 Keeping up with the Schultz Family
and the
Peterson Family
have teamed up to do Family Friday. I really like doing this because it gives me a chance to relive and share past memories and experiences.
I so wanted to participate this week, but I was drawing a blank. Suddenly it hit me. I'm not sure why. Maybe because my mom and I have been talking about my Dad lately. Earlier this month was the anniversary of his passing.


Here's a funny story about me and my dad from back in the day...
I think this picture is from when we would take day trips to the lake.
We would pack a picnic lunch and after we ate
we would head to the lake to play and swim.
But this is not the story I want to remember today.
There was a bar my dad used to go to. Sammy O's. I've heard the owner's daughter now runs the place. Not sure, but I always say I want to stop in. Nostalgia, I guess.
When I was younger, 8 or 9 years old, my Dad would take me to the bar with him.
Yes, you read that right. Back then there weren't age restrictions and what not like there are today.
In this bar there was so much for me to do. And some people to help feed my addictions. You see, I loved to play Ms. Pacman and darts. There was an older man that was always at the bar. He would give me a roll of quarters just so I could play some games. If I wanted to play darts, I would have to stand on a chair. I wasn't too bad for being a little kid! At least that's what I thought then. I also loved to drink Shirley Temples ~ obviously non-alcoholic! I do believe it was Sprite, cherry juice, and a cherry in it. Sammy O would usually give me an extra bowl of cherries, too!
So my love for video games and cherries... I blame it all on my dad, Sammy O, and the old guy with the quarters!
This is not a memory that I can relive through my own kids. Rules have changed, and probably for the better, but if someone gave me daughter a bowl of cherries and a roll of quarters... Well, she would just be beside herself!
I'm also linking this up with Follow Fridays, hosted by
One 2 Try
,
Midday Escapade

s
, and
Heart Make Families
.
Thanks for stopping by. I hope you enjoyed my story!
Until next time...
.