So I have this thing. This thing that I always think about. Some people think I'm nuts, but it really does bother me.


I'm going to link up with Shell for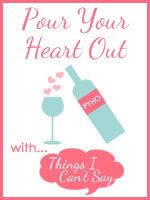 I don't do this meme every week, but when I have something heavy on my mind, I see this as permission to get it off my chest. Due to things that have been said to me in the past, I feel the need to post Shell's rules as well.
I hate that I even have to say this, but, whether you are participating or just reading, please keep in mind that the people linking really are sharing something from the heart. So, please, BE RESPECTFUL. We might not agree with each other, but we can all accept someone's right to have a different opinion than we do and NOT attack someone because of this. Play nice. :)

The thing that bothers me has to do with body image. I'm little and I realize this. But it is not by choice. No I'm not saying I would rather be overweight, but a few extra pounds would be nice. I have my days where I put on my clothes and feel absolutely great. But then I also have those days where I'm sick of my clothes not fitting right. I don't really have the hips or butt to hold up a pair of pants. I swear, all the clothes out there were made for those who are curvy and/or have big boobs. Um... not me. Belts - those I do have.

I guess it wouldn't bother me if people wouldn't comment on my weight all the time. Saying things like "It's sickening how skinny you are!" - how exactly do you take that? Yes, I know it's a compliment. It's the way it's phrased that I don't like. Pointing out something that I'm not always happy about makes me even more self-conscious. For my birthday or Christmas, if you want to get me clothes so you have to ask what size I wear, just write it down and call it a day, ok? No need so sigh and shake your head. Thanks!

I've also had people accuse me of having an eating disorder. I love my food and I love to eat. Throwing up is by far one of, if not my least favorite thing to do. If you would see my family, my uncles in particular, they are almost all tall and skinny. So I do come by this naturally. Or maybe it's a medical thing - thyroid or something. I hate going to the doctor as much as I hate blood work so I've never had that checked out. I know I should though. There's lots of things I should do, but just don't. But, whatever. That's for another time.

Anyway, back to my point. I am quite aware of what I look like. You may not realize I'm not always happy about it, but please, think about how you phrase your comments.

Until next time...
.