Yesterday my friend
Shell
wrote a post about some things we wish we knew when we first had our babies. There were definitely things on there I wish people had told me, but her post also got me thinking.
When our babies are first born, we may struggle, but we son embrace the role of motherhood. When our babies reach a certain, and this age varies from parent to parent, we desperately seek to escape the role of motherhood.
Sometimes we think we succeed, but then smack! We're hit with a reminder!
I now present to you my own list.
What about you? What are your "You know you're a mom when" moments?
*I finally figured out this Feedburner thing and got the email to show how I would like. If you like to get my posts in your inbox, please enter your email address in the subscription box over to the left. Thanks*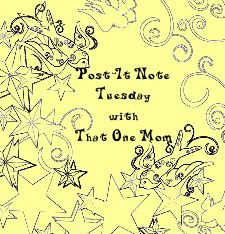 Until next time...
.