This was the week I had hoped would never get here. It was Kindergarten registration and Little Dude will be going in the fall. He is excited about "big" school and I am excited for him. But a part of me just wants to snatch him up and scream "No! You can't have him, school!"

I also learned that this week meant my typically good son would turn into a big ball of stubborn who loves to argue. You see, when GG was little I learned that it helps to talk about new things before they happen. I have continued to do that with Little Dude. It really helps with him because he is not a fan of change at all! I expected a change in behavior with him because we've been talking about signing him up for Kindergarten for a while now. Maybe he's just really nervous about the unknown of Kindergarten, or maybe because he still has to wait a few months and there is not immediate gratification, but whatever the reason, well... let's just say making it to his 5th birthday may be difficult.

Onto other news of the week... Little Dude finally started soccer this week. GG has had 3 weeks of practice already! He played in the fall so with this, he knew what to expect and things went rather well. The only thing I'm not super excited about is the coach's son. This boy was on Little Dude's team last fall. He was the hot shot of the team who always had the ball and scored. I realize these kids are only 4, maybe 5, so most of them don't really understand how to play, but shouldn't playing as a team be one of the first things taught? Maybe it's just me. We'll see how the season goes. At this point I think Little Dude is just happy with the team colors. His team is the yellow team and that is his absolute favorite color!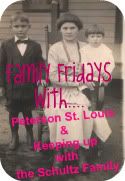 Until next time...
.