I've realized lately that I blog about my kids waaay too much a lot. Yes, they are my world and they are why I started this blog, but things have changed. Like most people, I've realized that blogging is also about making friends. There's always someone out there who can relate to a particular story. I take comfort in that because I know I'm not alone.

What I've noticed with my little piece of the net over here is that if I'm not blogging about my kids, I'm doing a meme. I guess it's kind of hypocritical that I'm doing this post of part of a meme, but I am NOT giving up my Post-It Note Tuesday! It's just way too fun. But I am going to cut back on doing memes. If what I have to say is relevant to a particular one, then I'll probably link up. My kids - oh, you'll still hear about them. But I want to blog more about who I am, as a mom as well as outside of that. Because there is so much more to me than just a mom. But I don't know where to start.

So...


Another thing I've realized about blogging is...


I've said this before - who doesn't want a ton of followers? But what good is a ton of followers if not many of them read and comment. Comments are how we get to know each other.
So here's what I plan to do...
If I do my part more, hopefully it will be reciprocated.
So... HI!! Nice to meet you! Anything you want to know, ask away! I will answer via email and/or a post.
Now go check out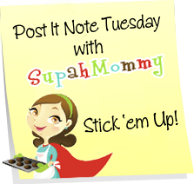 Until next time...
.