I've been doing a lot of thinking lately. Blogging really takes up a lot of time. I love it, I truly do. But I have a lot on my plate right now and I really think I need a break. I know I've said this before and after a few days I was back in full force.

But really, I just can't do it right now. My blog will still be here and I do plan on coming back sometime in the future.

So for now I say good-bye!

*
*
*
*
*
*
*
*
*
*
*
*
*
*
*
*
*
You didn't really fall for that, did you? Hahahaha! I'm laughing with you, I swear! All day Monday I thought it was Tuesday, which made Monday seem that much more suckier! But I know for a fact it is now Wednesday. And with Wednesday comes...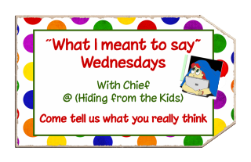 So what I really meant to say was...



HAPPY BIRTHDAY
PRINCESS!!!!!
It's her 21st birthday I do believe!
Click to leave her birthday wishes!!
Until next time...
.