Hooray for me!

I'm a BFF over at Shell's place!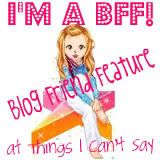 If you're not new around here, thanks so much for joining me on this ride. Now go check out what I have to say over at Shell's.
If you are new here, welcome. I'm glad you stopped by. Please feel free to take a look around. If you decide to stay, I look forward to getting to know you. If you're just hopping over to say hi, then HI!! Thanks for visiting!
Until next time...
.