Like a good girl, I ate all of my eggs, pancakes, and bacon.
And some more bacon.
I put my dirty dish on the counter. The counter is in the kitchen and that's where dirty dishes go. That's what I tell my kids anyway.
GG~ Mom? Is this your dirty dish from dinner?
*pointing to my plate on the counter while giving me "the eye"*
ME~ Yes
*it's dirty and in the kitchen for you to wash, what more do you want child?*
GG~ Mom, from now on, if the sink's not full, can you put your dirty dishes in the sink instead of on the counter?
Wow! I guess she put me in my place!
Please enter my giveaway, have a Merry Christmas and last but not least...
Go check out more post-its from That One Mom!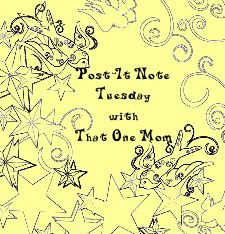 Until next time...
.