Let's get the bad news out of the way first shall we?

It's Monday


And now for the good news.
Drum roll please!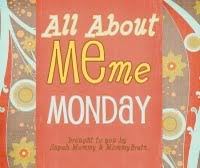 brought to you by SupahMommy and MommyBrain




This round is a little challenging. 5 laps I would rather sit on than Santa. Seriously?!? Alright, here it goes.




1. My husband. Like that's a surprise to anyone! And I'm not giving any more of an explanation. I sure you can figure out some reasons.


2. Mrs. Claus. Let's face it, she's completely ignored. I'm sure we've all seen Rudolph. She's the one who gets him to eat and she's the one to make sure he gets in the air when he needs to. Without her, Santa's nothing but a fat man in a red suit. And let's face it, behind most good men is a better woman. Sorry if that offends anyone, but you know there's truth behind that statement. Usually!

It's nothing perverted or anything like that. I just want the Mrs. to feel some love, too.

And by the way, DO NOT Google "Mrs Claus". I didn't post a picture of her for a good reason!


3.


Yes, that is the great and powerful Oz. Altho I guess what I'm really looking for is this guy...


I mean, he's the one who actually has a lap to sit on.


But, the great and powerful Oz can make things happen. I mean he's the one who got Dorothy home right? Oh crap, that was Glinda! Ok, maybe I'm looking for her to sit on. The point is I need to sit on someone's lap who can make magical things happen. I need to have a heart to heart with such a person so they can make bad things go away. Bad things like cancer, especially when it effects people I know. Like Jaden, who thankfully is playing at home. And like my friend Marie, who is not doing as well as Jaden. Please keep her in your thoughts and prayers please.


Ok, now that I'm sure I made at least one person pull out the box of tissues, I'll apologize and move on
before I start bawling, too
.



4.
I love Mickey and I always have. If I was sitting on his lap right now, that would probably mean I am in Disney World. It's the happiest place on Earth and I desperately want to go back there! Like now, not in July. I don't recommend that. There's a whole boatload of truth behind "it's not the heat, it's the humidity"!



5.

A giant, 3-foot tall teddy bear. All I gotta say is, doesn't that look like the best spot to curl up and take a nap?! Especially on a Monday!



And now I must go prepare for the invasion on the little people. Why, oh why did I volunteer to help at the Santa shop at GG's school???


If you don't hear from me, please send help!!


Until next time...