My fabulous friend Shell from
Things I Can't Say
recently hosted a Rockin' the Bump meme. I, unfortunately, did not participate since I am usually the one behind the camera. With how big I was with Little Dude, that was probably a good thing!
Since the event was such a huge success, she has decided to follow up with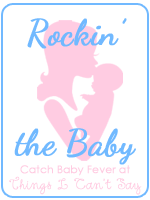 Who doesn't love to share baby pictures?!
GG, our first, was born in a rather traumatic fashion. At least for me. Quick delivery would be an understatement! Even though I may have been mentally scarred, she came into the world perfectly fine at just over 7 pounds.
2 months


However, that teeny, perfect sized baby did not last long. At her first doctor appointment at 4 weeks, she weighed in at 12 pounds. And she continued to pack on the rolls as the months went by.
7 months


I have to point out that after seeing a the above picture, a former co-worker honestly thought I put rubber bands on her arms. No, my dear, she was just my not-so-little chunky monkey!
A few years later we added Little Dude to our then family of 3. Thankfully he granted me with a little more time with his delivery, but I still wasn't able to get a damn epidural!
3 weeks


He entered the world just a little over 8 pounds. Because of that I expected to raise another chunky monkey.
Little Dude was such a happy baby. Just as we did with his sister, we had to instill some important values.
6 months

Even though he never acquired the rolls as his sister did, that didn't mean the boy didn't know the proper way to eat a cupcake!
Happy 1st birthday!

If you have pictures to share, head on over and link up with Shell. I just hope you don't have the same problems I did. Little Dude suffers from 2nd child syndrome with his lack of pictures. And baby book, but we don't need to discuss that issue right now, do we?
Until next time...