We may not have done everything I originally planned this summer, but that doesn't mean we didn't have loads of fun.
Our summer started off with out local Community Day. There was a wall to climb, bounce houses, and if you ask GG, an epic balloon sword fight in the middle of the field.
I think Little Dude's favorite part was getting his hair done.
A few weeks after that we made our way to a local amusement part. GG was so excited to be tall enough to ride every single thing. While Little Dude wasn't quite tall enough for everything, he was ecstatic that he didn't have to go to Kiddie Land.
Last year this park added a new roller coaster. With SnoMaggedon the previous winter, the coaster building schedule was pushed back. We had to wait until this summer to finally ride the new Sky Rocket. It's a short ride, but exhilarating! Plus you can catch an awesome sunset through the tracks.
For the first time in a few years, we failed to get pool passes. But that didn't stop me from taking the kids to the pool. Little Dude is growing up (tear) because he stayed in the big pool with me and his sister.
Except when one of the lifeguards would start an epic water battle!
I think if you to ask my kids what their favorite part of the summer was, they would most likely say our vacation to DC. GG barely remembers going on vacation when she was little and Little Dude has never been on a vacation. The out of state trip when he was 4 weeks old doesn't count.
I have so many pictures from our trip, but some of my favorite include pizza slices as big as a 6 year old's head
and unexpectedly running into Bumblebee outside of the National Zoo.
Our summer vacation is coming to a close in a few weeks. The kids and I still have one more trip coming up to our own zoo. Even though what we actually did differed from the list I made at the beginning of the year, I'd say we had a kick ass summer!
For more summer fun pictures, check out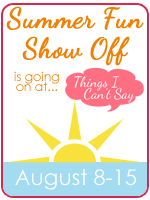 Link up! There's prizes!
I'm also linking up with Wordful Wednesday
Until next time...