As we all know Saturday was 9-11. The memories of that day still haunt as if it were yesterday. Instead of wallowing in that sorrow and watching the stories of that horrible time, I went out this year. To an Air Force base.

My sister from another mister wanted to see the air show. GG was at a friend's house, but I

knew

Little Dude would go nuts over those planes. And the soldiers, too!

Here's a recap of our day. Post-it style!

Roughly 30 minutes to get to this point,
but another 2.5 hours to go the last 3 miles!
Thankfully it only took us 1 hour to get home.
Gorgeous day, 9/11 - I guess that was THE place to be!
Check out the detail on that beauty!
And because I couldn't pass it up, I had to get a picture representing black 'n' gold pride! The guy with the 2 Crosby jerseys is just icing on the cake!
For more Post-Its, go check out...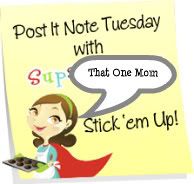 Until next time...
.