A few days ago I blogged about being bruised. It hurt to send my babies to school, especially Little Dude who started Kindergarten. My midgets are characters to say the least. I missed their entertaining conversations.
This 3 day weekend helped to heal my wounds.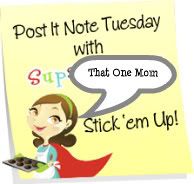 Head over to Only Parent Chronicles to link up your own post-its! It's fun! I promise!
Until next time...
.